Do you want some guarantee that your Christmas meals or the dish you bring will go over well? Then you've stopped at the right round-up.
My personal holiday track record is typically hit or miss. Some things come out great and some things just don't – I don't know why exactly, except that I've always just had some unfortunate luck in the cooking department. That is, until NOW.
Lately, the Pinterest Recipes I've used have made my dishes pretty amazing. I mean, I am even getting complimented on my cooking and sometimes asked for the recipe – that NEVER happened in the past.
That's part of why I love Pinterest (and its linked blogs) so much, it can be such a great resource for learning, and takes some of the fear away from experimenting.
If you have a touch of the kitchen curses too, up your odds of success by sticking with recipes that consistently receive 5 stars or at least almost 5 stars (you can't please everyone).
If you're tasked to bring a dish to someone's house picking an item with visual appeal is sure to be a crowd-pleaser – and if it doesn't taste good at least it looks nice.
Here are some of the highest rated recipes picked out specifically for holiday entertaining. These are all over the map from way meaty to vegan, so there's a little something for everyone.
Try a few of these out – I believe in you – you can do it!
Appetizers
Deviled Eggs Recipe ⭐⭐⭐⭐⭐ (119)
from Downshiftology
If you want to get super creative with these, you can also read about dying your egg whites red and green, like this blog post from MomDot teaches you to do.
CheeseBallBites ⭐⭐⭐⭐⭐ (5)
from Dinner at the Zoo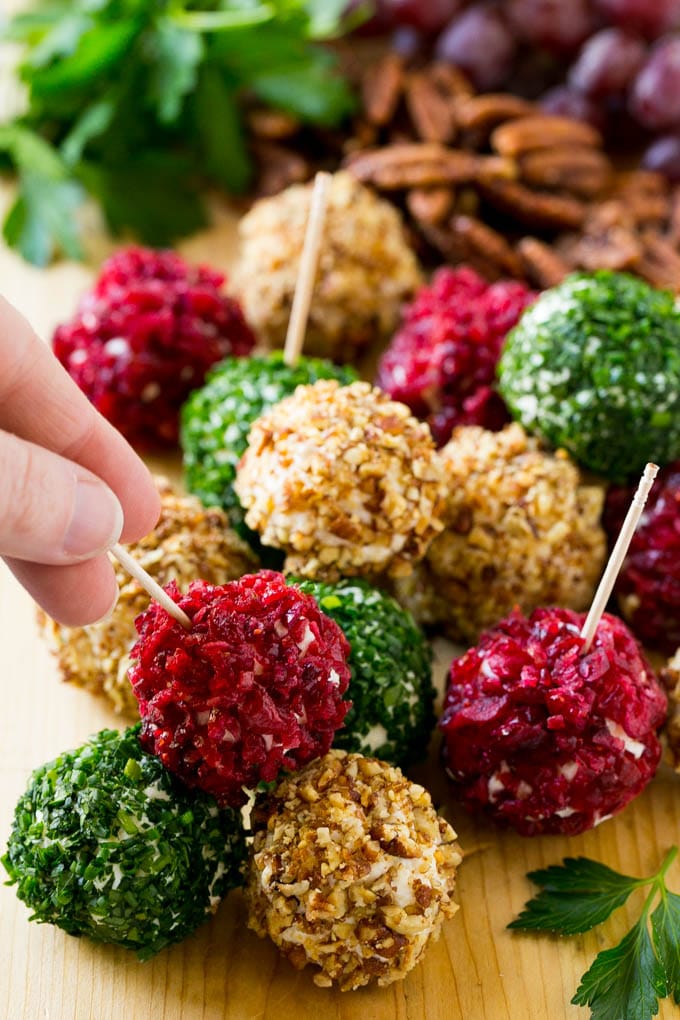 Cranberry Salsa  ⭐⭐⭐⭐⭐ (4)
from Finding Zest
Cranberry Brie Bites ⭐⭐⭐⭐⭐ (1)
from TheDarlingDays
Herb Roasted Shrimp Cocktail ⭐⭐⭐⭐⭐ (22)
from JoyfulHealthyEats
Christmas Wreath ⭐⭐⭐⭐⭐ (2)
from Genius Kitchen
Easy Antipasto Wreath ⭐⭐⭐⭐⭐ (15)
from Simply Delicious Food
Tomato Bruschetta with Balsamic ⭐⭐⭐⭐⭐ (14)
from Ahead Of Thyme
SIDE ITEMS
Honey Roasted Squash With Cranberries ⭐⭐⭐⭐⭐ (46)
from Peas and Crayons
Pear Pomegranate Swiss Salad with Poppy Seed Dressing ⭐⭐⭐⭐⭐ (7)
from House of Nash Eats
Christmas Tree Garlic Bread ⭐⭐⭐⭐⭐ (6)
from BBC Good Food
Cranberry Orange Green Beans ⭐⭐⭐⭐⭐ (5)
from Cupcakes and Kale Chips
Brussels Sprout Salad ⭐⭐⭐⭐⭐ (11)
from Peel with Zeal
MAIN DISHES
Perfect Prime Rib ⭐⭐⭐⭐⭐ (76)
from Just A Pinch
Vegan Beet Squash Kale Pesto Wellington ⭐⭐⭐⭐⭐ (35)
from BBC Good Food
Garlic Rosemary Chicken with Cranberries ⭐⭐⭐⭐⭐ (42)
from The Mediterranean Dish
Maple Glazed Ham ⭐⭐⭐⭐⭐ (49)
from Recipe Tin Eats
Pan Seared Cod in Tomato Basil Wine Sauce ⭐⭐⭐⭐⭐ (166)
from Baker By Nature
Salmon Puff Pastry Wellington ⭐⭐⭐⭐⭐ (186)
from Tasty.co
Roast Beef Tenderloin ⭐⭐⭐⭐⭐ (120)
from The Anthony Kitchen
DESSERTS
Cranberry Orange Cheesecake ⭐⭐⭐⭐⭐ (3)
from Crunchy Creamy Sweet
Oreo Balls ⭐⭐⭐⭐⭐ (359)
from Genius Kitchen
Sparkling Cranberry White Chocolate Cake ⭐⭐⭐⭐⭐ (14)
from Life Love and Sugar
Christmas Pavlova ⭐⭐⭐⭐⭐ (26)
from BBC
---
This year impress those hard to please relatives with some original and spectacular dishes!
How Do You Do Christmas Dinner?